Blueberry Bliss In A Mug | Blueberry Mug Cake

Blueberry Bliss in a Mug – Blueberry cake prepared in a minute using your coffee mug. Perfect for a single serving!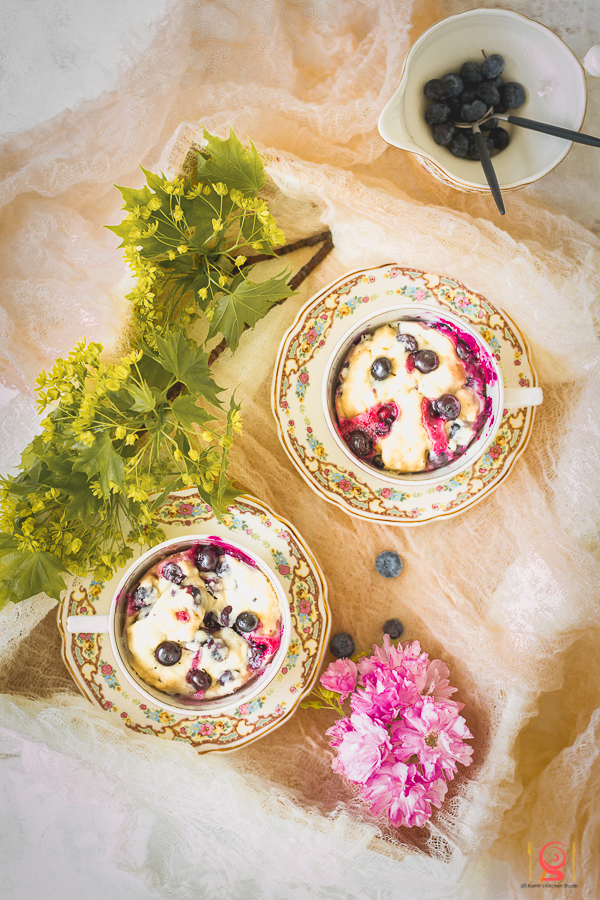 I am still in the seventh heaven; the state of blissfulness. Have you ever felt so? Have you ever laughed so hard that you had tears in your eyes? Have you laughed till your stomach is sore? I have been walking on air since yesterday. And everyone knows why. If not, KarthisKitchenStudio turned one last month and we had celebrations at home. Every lock stock and barrel appeared flawless and splendid to me. It rained yesterday to wash out the dirt on those newly born tender leaves and flowers. Isn't spring beautiful? The whole lot of emerging leaves, colorful blooms across the roads and the refashioning by rains added elegance to the morning. Even the broken pot in the corner of the road looked artistic to me. Maybe, the state of happiness tickled the artist in me and the whole caboodle looked magnificent. I have decided to be happy and celebrate my one year journey what may come in the way. I believe Happiness is a decision. There is no purpose in searching for happiness, we just simply learn to be happy. When you decide to be happy in spite of the circumstances, you will find it here and find it now. Have you ever viewed a situation/person through happy eyes? Yes, happy eyes – they magnify when you are bottled up with emotions; when you are happy, they look for the charm in every single thing and magnifies it – I call it as happy eyes. Remember, it becomes a sad eye, when you are sad and magnifies the imperfections.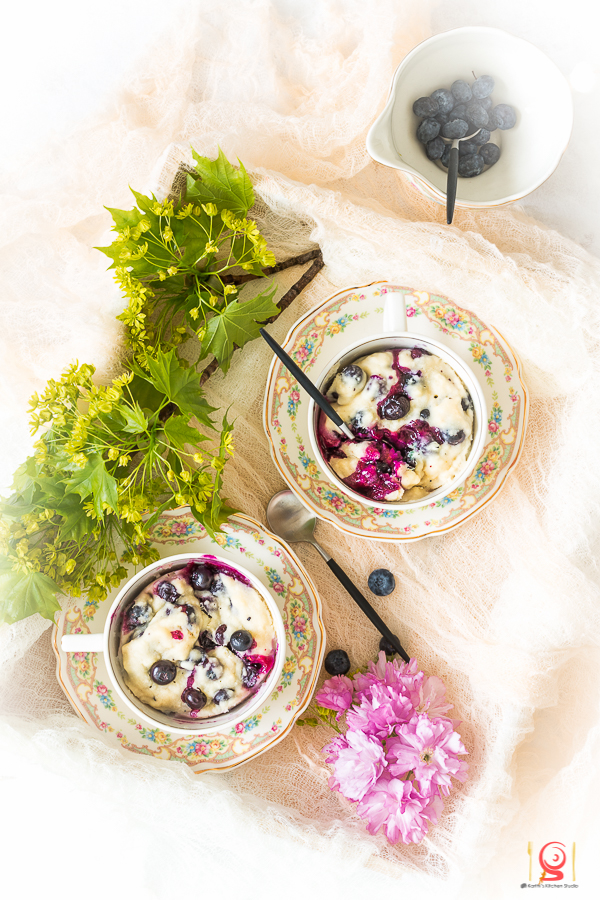 When you look through happy eyes, the imperfections doesn't matter anymore, you accept the differences and appreciates it. You let them be themselves and accept the fact that happiness is understanding the differences and appreciating it. Believe me, "Mr. Perfect" in you fails her duty when you are elated.
Life is short to spend the precious time in worrying. And in most of the times, your idea of life is not going to happen. So decide. Make an intelligent choice and be happy. Celebrate life.
Since then I have decided to be happy and celebrate my one year journey, I am so elated, giggling and laughing out loudly. More than that, I am preparing a variety of sweets and stuffing myself with it. Let the mind replays doctor's advice and reminds me of my weighing scale. But then, I have abandoned all logic for the last couple of days and decided to be happy and eat to my desire.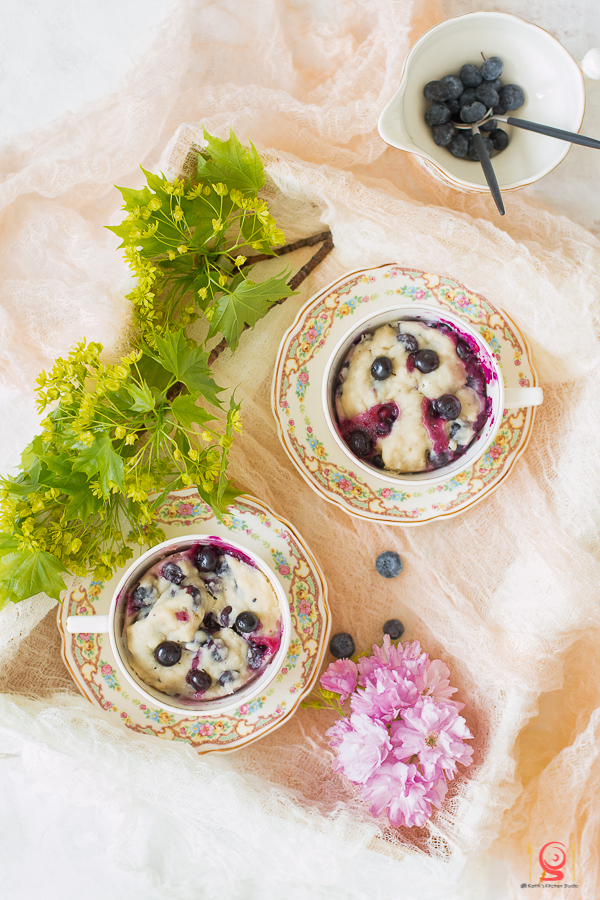 I have been thinking to bake a cake but then after repeated reminders from SJ and SAN (they have been scolding me for eating a lot of sweets since yesterday), I decided to bake single serving mug cake. Do you believe that happiness comes in a mug? If not, try out this Blueberry Mug Cake and you will totally agree with me.
Blueberry Bliss in a Mug (aka) Blueberry Mug Cake
Ingredients:
4 tablespoon All-Purpose flour

¼ teaspoon Baking Powder

3 tablespoon Milk

½ tablespoon Vegetable Oil

¼ teaspoon Vanilla Extract

15 – 20 Blueberries
Method:
In a microwave safe bowl, combine flour, baking powder,

milk,

vegetable oil and vanilla extract.

Whisk them well until they are combined well and the batter is smooth.

Add few blueberries and mix them well. You can leave some on top but then, they might burst open while heated in the

microwave

.

Cook in the

microwave

for about a minute. Check whether the cake is done using a toothpick. The center should be set and the

toothpick

inserted should come out clean. If not, heat for an additional 15-30 seconds.

Let it rest for few minutes.

Serve it warmly.
Tips:
Use any microwaveable bowl or mug

Ensure not to fill the entire cup. Fill only ¾

th

of the mug.

Mug cakes might sink in but that doesn't make it less than a cake.

Add a tablespoon of water/milk on top of the batter in mug. This will prevent over-baking, drying out and prevents becoming rubbery.

The addition

of water

to

it

results in a moist soft cake.

Troubleshoot your cake – test the center of the mug cake. If they stick slightly, then it's perfect. If it doesn't, then you over-baked. If it is still wet, microwave for another 5-10 seconds.

Do not add baking powder more than the mentioned level. Adding more baking powder will raise the flour over the edge of the cake but then later, it sinks in providing an undesirably dense chewy texture to the cake.

Mug cake becomes

hard

even after 10 minutes. No worries, add a scoop of ice cream with nuts or your favorite nut butter or favorite sauce (chocolate/berry) and enjoy a perfect dessert.