Blueberry Peach Greek Yogurt Cake

Though summer has started on the east coast, we don't get the blessings of Sun every day. At times, clouds pour down like cats and dogs and leave you to wonder as summer has really started. With such rainy days, the only indication of summer is the availability of fresh peaches all over the market. To be honest, I have never tasted peaches and never had a thought in my mind about them. But I couldn't take my eyes off from the fresh peach baskets available in markets.  Eventually, they find their way to my cart!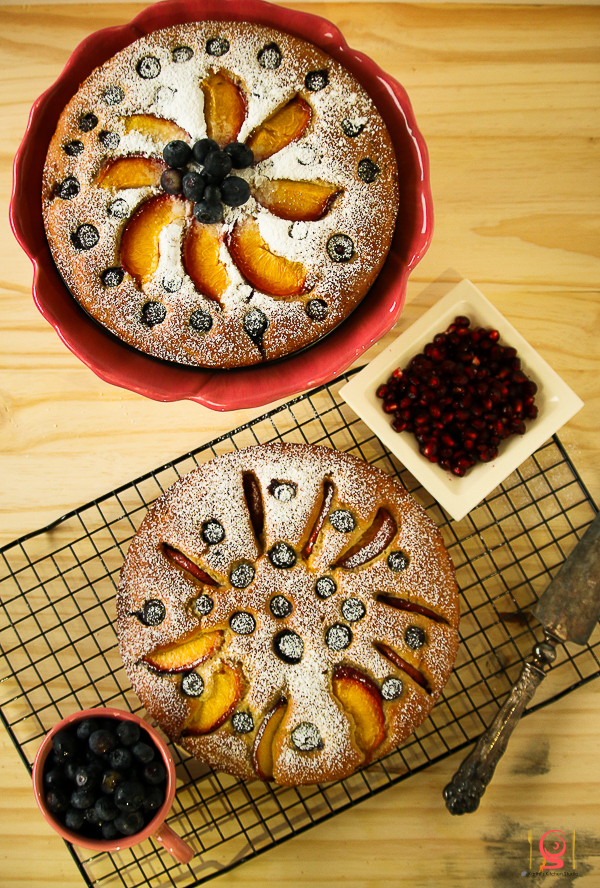 Peaches belong to stone fruit family, meaning that they have one large seed in the middle, like plums, apricot, and nectarines. The inner flesh of peaches is in color which vary from white to yellow and orange. If the flesh sticks to the seed, then they belong to the category – clingstone and if they come out easily, then they are referred as freestone. They do have amazing healthy benefits – rich source of antioxidants, help to prevent skin damage and help combat the formation of free radicals which are known to cause cancer
If you ever get a chance to see peaches, just smell them! They have a tempting smell. Once smelt, you will never ever leave peaches next time. I bought them home but didn't have any idea as how to put them in use.  After my analysis, I settled down for a simple basic cake topped with peaches and blueberries. Yippeeee…. The combination was so divine that one should really taste it to appreciate their flavor.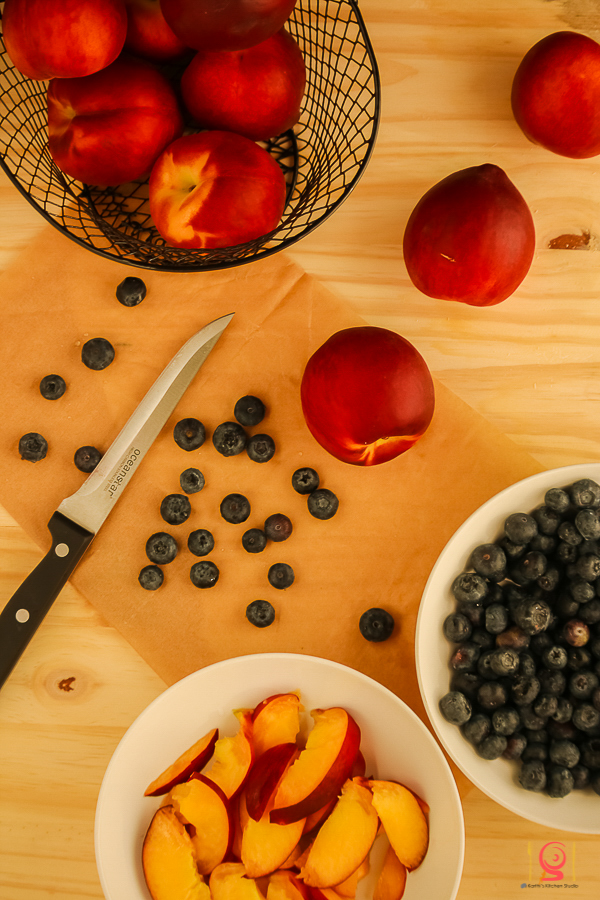 If you are trying out peaches for the first time, then do check for freestone peaches. That's reflection of my nasty experiments in my kitchen to halve the peaches exactly.  As the thumb rule says, one should imagine composition and styling during the preparation of the food itself. Hence, I imagined scenes with halved peaches and poor me, I couldn't cut any peaches properly….   Hence, watch out guys !
This cake is a simple greek yogurt cake which I try often at home. I love cakes but these days, I am restricting myself from munching cakes at shops due to their sugar content and rich creams spread all over.  On such days, when my taste buds crave for cake, I prepare this simple yet delicious one to satisfy my tooth buds. And topped with peaches and blueberries. The result is such a colorful delicious fruit cakes with peachy flavor.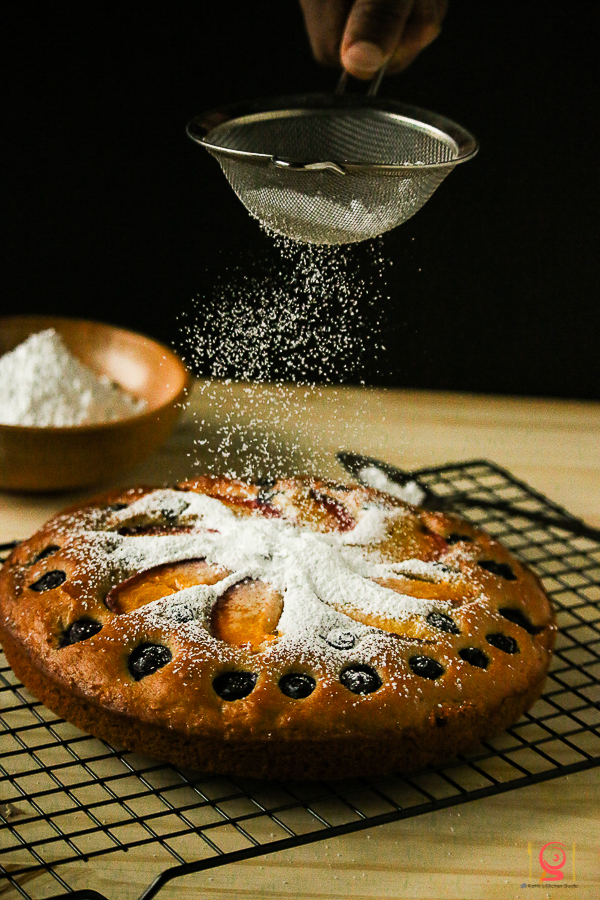 And also, the baking time depends on your oven. In my older apartment, it took 40 -45 minutes for me whereas in my current place, they become slight brownish at the top when I baked for 45 minutes.
Now to the recipe!
Ingredients:
Note: The ingredients are mentioned for a single cake baked in a 7-inch cake pan. They are doubled for two
1 ½ cup All-purpose flour
1 teaspoon baking powder
½ stick unsalted butter / ¾ cup Cooking oil softened at room temperature
½ cup cane sugar / sugar/ ¾ cup honey
2 eggs
½ teaspoon vanilla extract
½ cup Greek Yogurt ( I used Chobani)
2 peaches sliced into wedges
Handful of Blueberries
1 teaspoon powdered sugar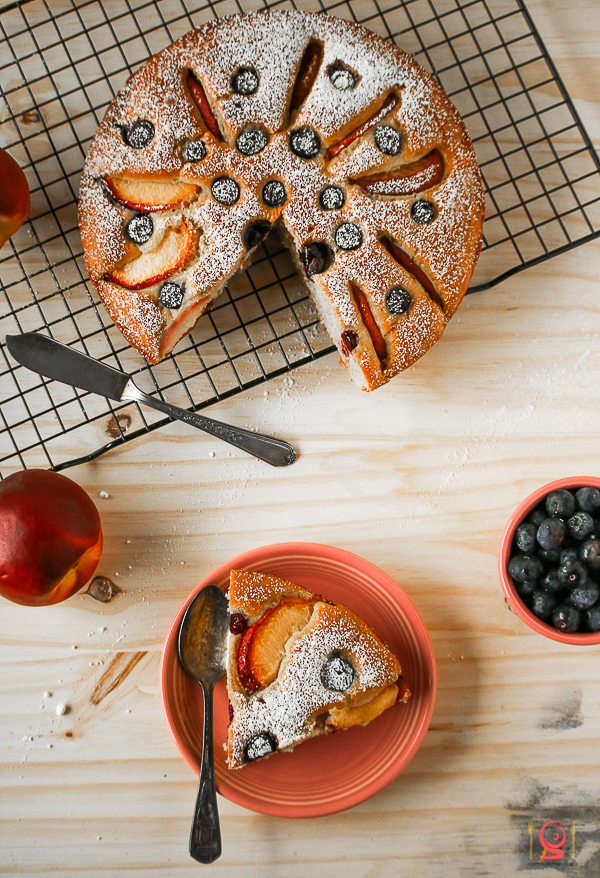 Method:
Preheat oven to 350 degrees Fahrenheit
Grease the bottom and sides of the cake pan with butter. Grease the pan with parchment paper and keep it aside
Slice peaches into wedges; wash blueberries thoroughly with water; set aside
In a medium bowl, sift all-purpose flour, baking powder, and baking soda. Combine them well
In another separate bowl, beat butter, sugar, and egg together with a hand mixer until they become pale in color and fluffy which might take 2-3 minutes on high speed.
Add vanilla essence and greek yogurt; Beat them together until creamy
Mix the dry flour mixture with the wet mixture and beat them with a hand mixer on a low speed.
Do not overmix
Transfer the cake mixture to the pan and smooth their top with the back of a ladle. Arrange peach slices and blueberries. Allow your creativity to do magic.  I topped the cake with peach slices and thrown blueberries in the spaces between peach slices
Bake until the cake turns golden or until the toothpick inserted comes out clean.
Once done, allow the cake to cool down on a cooling rack.
After it has been cooled down, gently pulled out the edges of the pan with a knife and release the cake.
Gently dust powdered sugar on top of the cake.
Enjoy the cake as such or with a  scoop of vanilla ice cream/ whipping cream