Chicken Biryani

Chicken Biryani – Flavorful Seeraga Samba rice cooked with tender pieces of chicken, freshly grounded masala and coconut milk to perfection!
Heart full of Desires,
Mind full of thoughts,
Life full of riddles,
Day full of chores,
Night full of dreams,
Life goes on wheels,
Oh my love,
Stop and Rest for a while.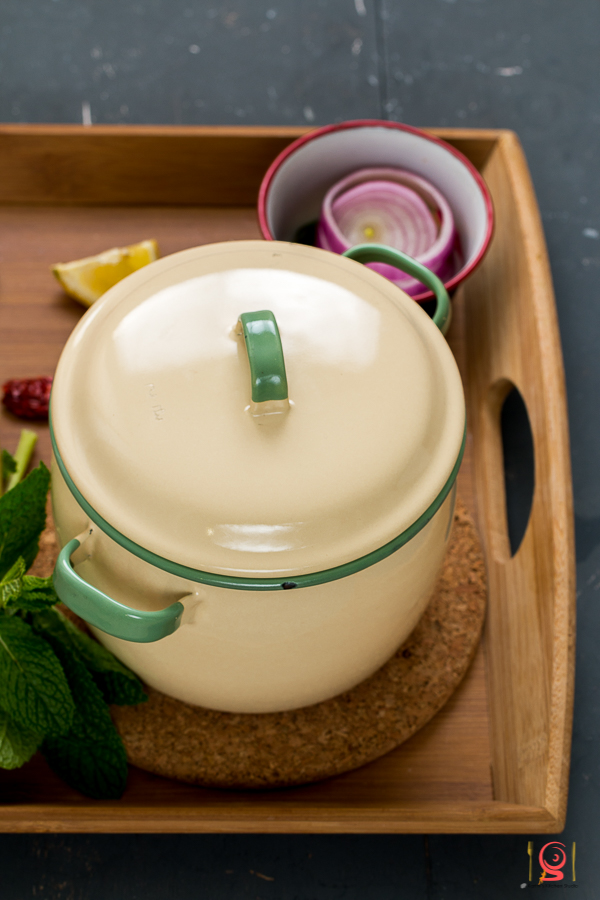 Naah, I never meant to write a poem. Do you really think this as a poem? But, that's how my day and life looks as of now. Those verses depict my present mind perfectly. Those who know me and SJ knows our journey. We have been through ups and downs and crossed each stage of our life with a leap of faith. As I write this, there is so much happening now in our lives and I know this too shall pass on one day. Until then, press play and watch what happens. Over the years, I have learned to detach myself from life and observe it rather than carried away in its flow. There is a lot in life after every crisis or breakdown. Yes – A LOT OF LIFE.
There was a period before when life dealt with us in brutal ways. How do you feel when you are left alone even when you had loved ones? How do you feel when every turns in life opened the door of problems? There were times when we counted every single penny we had and can't afford to spend it, not lavishly but also essentially? All I had with me was infinite questions as "Why me". I spent a lot of time grieving, mourning, yelling and isolating myself from everyone. But then, slowly we picked ourselves, took one step at a time and moved on. I suffered and felt grief; allowed it to rise within me; cry it out; detached myself from it; watched it rise and fade away eventually. The more I detached from it and observed it, the sooner I moved on. When it ended, I picked up myself and then, life happened. There is a lot of life aftermath a crisis; the scenery changes; people change; the dead end opens up to a new road; you will realize there is much more life than clinging on to the past or worrying about present;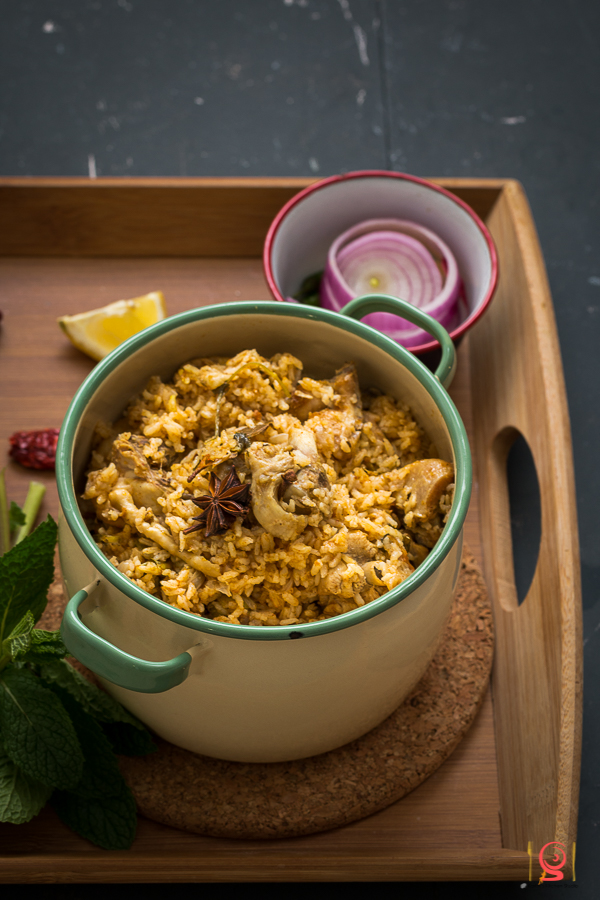 We are at crossroads now, but then I know this too will pass on! Life changes. Every crisis faced in life is to take you to the better heights and to find out the best "YOU". I am so happy that I lived through it, felt it, dealt with it and faced it. With so much happening in its own day, we have been dealing with a lot recently. I wanted to take time off from my usual activities and spend time with me. A good shower and good food do a lot to you than anyone and anything. Last Sunday was my kind of day. Sound sleep, long showers, soulful food doing nothing; Yes, I did nothing. I love such days with a lot of self-reflection and realization. Having said that, these boys – SJ and SAN stormed the kitchen and cooked up dishes. How much I appreciate that? What else do you need other than a plate of biryani prepared by your loved ones on your day of "no-disturbance"? I did a lot of sleeping and eating!
The Biryani tasted awesome and I loved its flavors. It was my MIL recipe which SJ adapted with his own twist. But then, I requested him to prepare it less spicy and insisted SAN oversee him. The result was perfect. The biryani was subtle in flavors and mild in spicy! D-E-L-C-I-O-U-S!
Though I didn't intend to share the biryani for the blog, the delectable dish pushed to click pictures of it and share this pot of deliciousness with you guys.
Here you go, guys! Wish someone prepares this Biryani on your day of "no-disturbance"!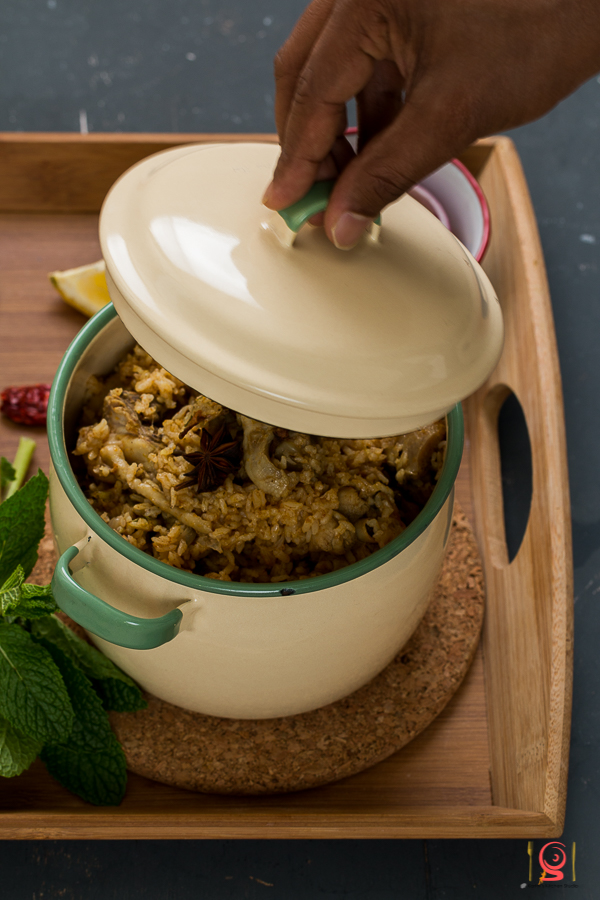 Ingredients:
Biryani Powder:
1 tablespoon Fennel Seeds

1 Bay Leaf

2 Cloves

2 Cardamom Pods

½ inch Cinnamon Stick

1 Star Anise
Biryani:
2 tablespoon Ghee

1 tablespoon Fennel Seeds

1 Bay Leaf

2 Cloves

2 Cardamom Pods

½ inch Cinnamon Stick

1 Star Anise

¾ Kg Chicken

2 Big Onions, sliced

1 Tomato, chopped

3 Green Chilli, Slit into halves

½ cup Mint Leaves

½ cup Coriander Leaves

1 ½ tablespoon Red Chili Powder

3 cups Rice

1 cup

Coconut

Milk

5 cups Water

Salt, as required
Method:
Wash and clean the chicken twice with plain water. Add a pinch of turmeric to the chicken and combine them well. Let it be for few minutes. Wash the chicken again with plain water.

Drain the excess water and keep chicken aside.

Wash rice with water; Drain the excess water from the rice and keep aside. There is no need to soak the rice.

Heat a

medium-sized

pressure cooker over medium flame. Add ghee and let it melt down.

Slide in the fennel seeds, bay leaf, cloves, cardamom, cinnamon stick, star anise and sauté them in the ghee.

Chop ginger and crush garlic; add it to the ghee and give a stir

Add sliced onions and fry them until they become translucent. Ensure not to brown them.

Stir in the chopped tomatoes and cook until they become mushy.

Add ginger garlic paste and combine them well.

Now, add the cleaned chicken pieces and combine them well using a wooden spatula.

Sprinkle the freshly grounded biryani masala, red chili powder and salt to the chicken. Mix them evenly such that the chicken is completely coated with spices. Adjust the spiciness according to your desire.

Slide in the chopped coriander and mint leaves;

Add a cup of water and cook the chicken over medium flame until the chicken is half-cooked, say around 10 minutes.

When it is half-cooked, add a cup of coconut milk and 4 cups of water. The rice and water

have

to be added in the ratio 1:2; we do count the initial cup of water and a cup of coconut milk for cooking the rice.

Allow the water to boil. Once the water starts boiling, add the washed rice. Squeeze out the juice from half lemon and add it to the cooker.

Test for salt and add if needed.

Close the cooker with the lid and let it cook over medium flame for about 10 minutes.

Now, add the weights to the cooker and cook

for

3 whistles. Remove the cooker from the flame.

Let the pressure release completely. Once the pressure is released, open the lid and gently mix the rice.

Serve it warmly with raita of your choice or with spicy chicken gravy.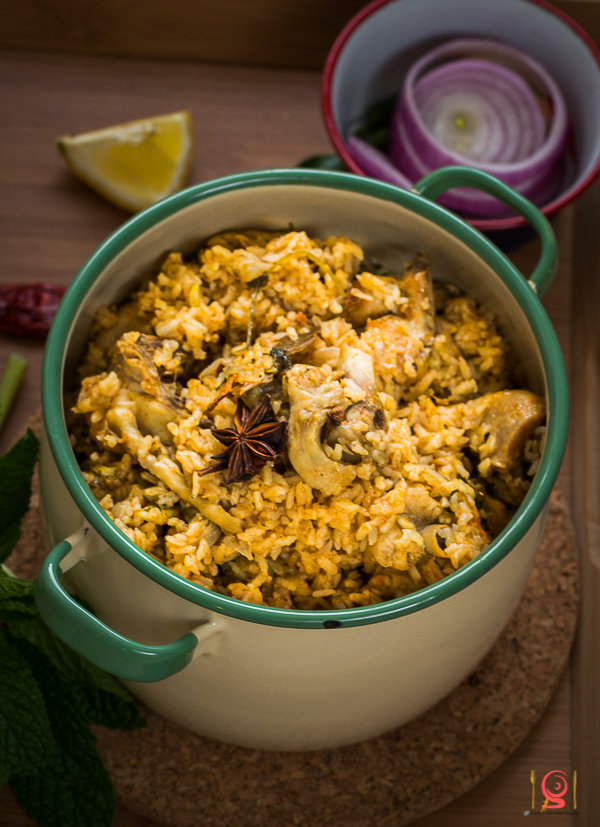 And don't forget to check out my all-time favorite Prawn Biryani here – Prawn Biryani
If you would love to try chicken biryani, then do check out this famous specialty from Ambur – Ambur Chicken Biryani And I do have another authentic version of Mushroom Biryani from the region of Chettinad. If you need a protein-rich version of Biryani, then I know you will love this Soya chunks Peas Biryani.
And don't forget to check out my personal favorite Vegetable Biryani from my childhood days.
If you try the recipe, do let me know how they tasted in comments. If you like space, do like and follow my profile at here – Facebook, Google
Yours Truly,
Karthi