Dutch Baby with Strawberries and Pistachios | How to make a foolproof Dutch Baby

Dutch Baby with Strawberries and Pistachios – A simple yet wonderful dramatic breakfast to lift up your soul on a cold frosty morning. A time saver! Whisk it, bake it in the oven and let the magic happen! And you know what, your little one will happily finish his plate without any leftovers; A kid's Friendly Brekkie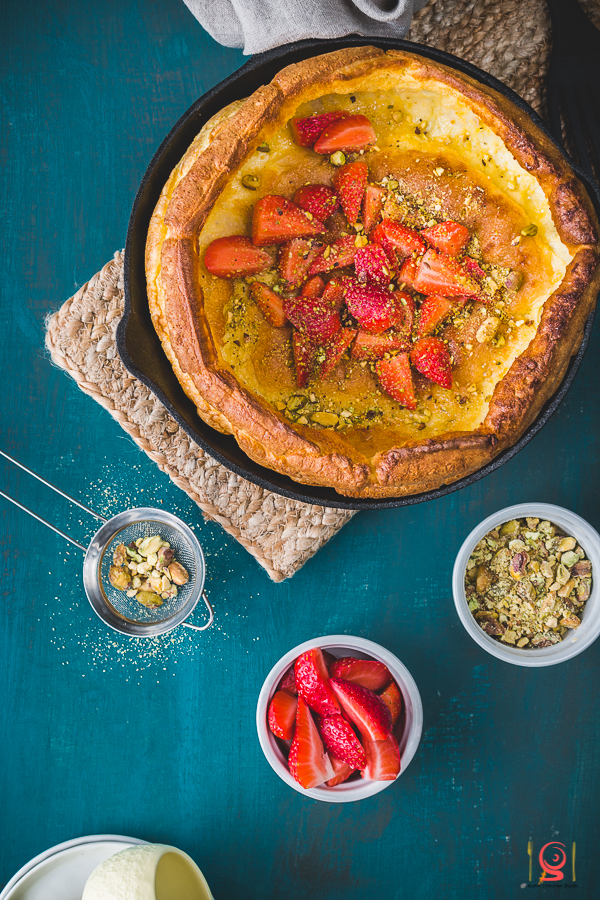 Hello there!
Happy winter! Yes, we are having perfect winter here at burgh with snow showers all day! We had unusually mild weather and abnormal warm winter during February month with the temperature being in 70's. Droves of burgh soaked up the azure skies and pleasant, summer-like air. We have been strolling around parks, bridges and people were seen having their typical summer picnic lunch near lakes. Do you believe that Mass Mutual Skating was open all day in February? We have been roaming with shorts and tanks during winter. The weather was a pleasantly warm summer in winter. But, March was not as good as February. The temperature dipped every day and the city had the snow of entire winter in a week. And, shoveling the accumulated snow during peak hours in the morning is a tiring job. The umbrellas in the balcony are now folded and the office is empty with friends working from home due to inclement weather. Kids are seen covered completely with jackets and heaps of ice along the roadsides. Today is a classic sluggish winter day and we are snowbound.
The snowfall is a treat to watch but such bleak days make you humdrum. As I unwind myself from the bed, I could see those puny snow popcorns falling down from cloudy sky through my windows. What a pleasant treat to eyes! I braided my hair and wanted to munch on simple yet wonderful breakfast that can be prepared with the humble ingredients in my pantry. On such frosty days, I wish to have a relaxed brekkie while being tucked myself inside my favorite yellow comforter and watching the snowfall from my 8th-floor balcony French window. Life is pure bliss on such calm mornings. The only activity I love to do on such days is to read Nora Roberts novel with crackers to munch on occasionally and of course, I need several cups of hot steaming coffee prepared out of Cuban coffee powder from my favorite shop – PrestoGeorge.
What would be a perfect choice for breakfast than a classic Dutch baby with chopped fruits? I had only a pack of fresh strawberries lying in the lower rack of the fridge. And on such mornings, my mind would freeze and stops thinking but to my surprise, it remembered a page in Cooking Light featuring a bright Dutch baby with berries and Pistachios. The entire book rack in my living room was ransacked searching for the issue and my eyes scanned through the pages. And there it is! I found out after creating a mess of papers, bank statements, and books on my green carpet. That doesn't look like a perfect way to start a clutter less day. But then, I don't care if it is for good food. I whipped up all the ingredients in a few minutes. Preheated my oven and my seasoned skillet. Thanks to my OCD about cleanliness, I always clean and season my skillet after every use. And then, I poured the batter, allowed the batter to do its magic and watched it puff up through the oven window. That's purely a baker's delight. The key to the dramatic puff comes from the oven – the push from steam and the heat the batter gets from the sizzling preheated skillet which then goes straight into the heated oven. Chop strawberries, throw them on top of browned Dutch baby, drizzle lemon juice, season it with pistachios and enjoy your warm winter morning. That's how my morning was celebrated with bliss.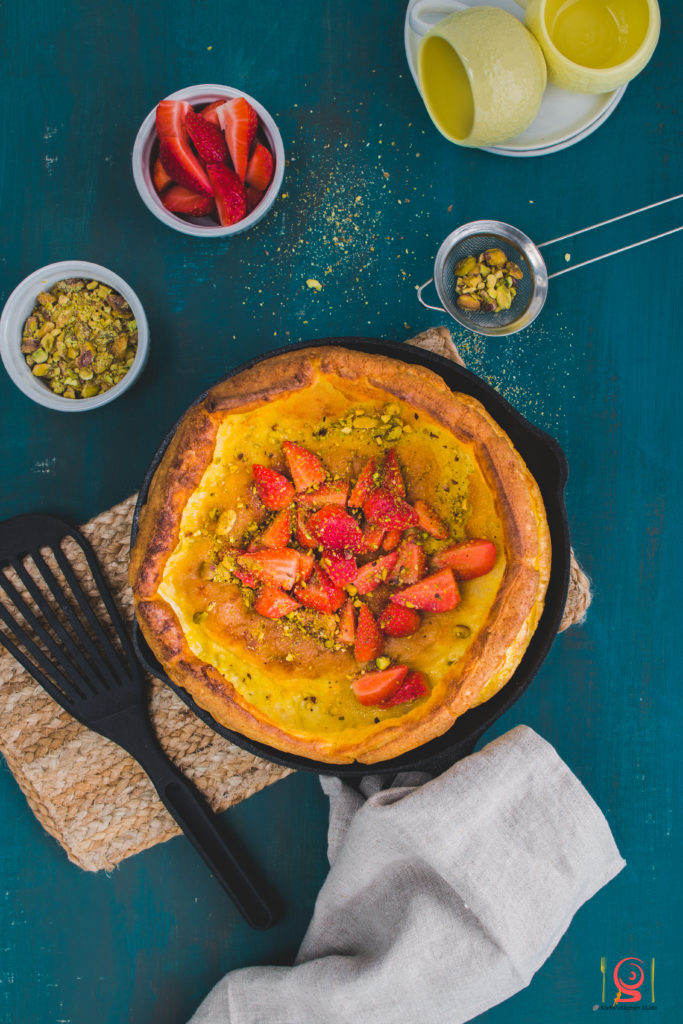 Key to make perfect foolproof Dutch Baby:
Preheat the oven and skillet properly.

Use a cast-iron skillet.

Use a well-seasoned skillet.

Spray baking spray on your skillet to prevent sticking at the bottom

Ensure your toppings are ready; so once it is out of the oven, serve it warmly with toppings.
I always add a generous amount of Hershey Chocolate Sauce on the top. Yes, I love chocolates in the morning. They never fail to do its job, when everything else in the world fails – It makes me happy, every single time!
Ways to maintain Cast-iron Skillet:
These are some of the techniques I have collected and I have tried them personally to season my cast iron. It's been a year and I use my skillet often but then it looks good and no rust!
Clean It
Clean the skillet immediately, while it is still hot or warm

Never use soap or dish washing liquid.

Don't use dishwasher

Use a sponge or smooth surface of your scrub to wash the skillet. Use hands to wash skillet

Spread coarse salt on the skillet and scrub the pan to remove the food stuck on the skillet.
Dry It
Boil some water in the skillet to remove stuck food

Use clean towel and wipe off the water in the skillet immediately after cleaning

Heat the washed skillet to dry the skillet

Rub the skillet with sliced potato to remove any rust from it.
Season It
Wipe the skillet with cooking oil.

Remove the excess oil from the pan

Store it a dry place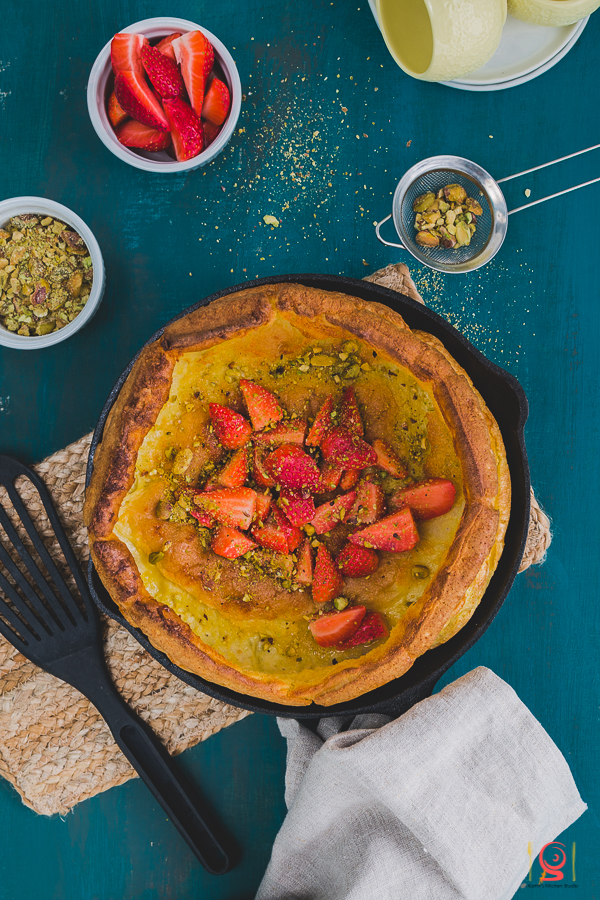 Now, to the recipe
Ingredients:
Dutch Baby:
½ cup All-purpose flour

2 large Eggs

1 large Egg White

2 ½ tablespoon butter, melted

1 tablespoon Cornstarch

10 tablespoon Milk, I used whole milk but you can use fat-free milk too

Cooking Spray
Strawberry Lemon Mixture:
1 box of Fresh Strawberries

2 teaspoon Powdered Sugar

2 teaspoon Grated Lemon rind

2 tablespoon Fresh Lemon Juice
Toppings:
2 tablespoon Unsalted coarsely grounded Pistachios
Method:
Let's prepare the strawberry mixture first so that they get time to soak in the lemon juice, emaciate and become juicer.

Hull the berries and slice them into halves.

In a bowl, combine sugar, a teaspoon of lemon rind, lemon juice, and berries. Stir them well so that it's blended evenly.

Preheat the oven with well-seasoned 10-inch cast iron skillet to 450 degrees.

Meanwhile, let's prepare the batter. In a bowl, add cornstarch, milk, flour, eggs, egg white, a teaspoon of lemon rind and a tablespoon of butter. Whisk them well with a hand mixer until the batter is pale and smooth.

Once the oven is preheated, remove the pan carefully from the oven.

Coat the pan with the cooking spray.

Add the remaining butter to the pan. The butter melts down as the pan is heated up. Gently swirl the pan so that the butter coats it.

Pour the batter into the pan.

Bake in the oven for about 20 minutes until the batter is puffed up and browned on the top.

Remove from the oven

Top with the prepared strawberry mixture. Sprinkle grounded pistachios on the top.

Serve it warmly. Enjoy your mornings with a delicious brekkie.
If you would love to try other scrumptious breakfast based out of eggs, then do check Ratatouille With Fried Eggs, Spinach Mushrooms Eggs
I do have some authentic regional breakfast recipes here Puttu and Kadala Curry, Kashmiri Chhir Chot, Chettinad Kuzhi Paniyaram, Ragi Idiyappam
And if you are so health oriented, then do check out Bajar Matar Ki Khichidi, Okra Idli; And shake yourself on a lazy morning with this Apple Cinnamon Soy Shake
If you try the recipe, do let me know how they tasted in comments. If you like space, do like and follow my profile at here – Facebook, Google
Yours truly,
Karthi