Kaatru Veliyidai – More Love; More Forgiveness;

Kaatru Veliyidai – The Complex Knots of Relationship!
Kaatru Veliyidai – Recent flick from Mani Ratnam, the Man who portrayed Woman of substance in his films. His women are spirited, vivacious, enchanting, youthful, educated, confident, independent, bold, beautiful, passionate, ambitious, sensible, breezy and are proudly themselves. He etches the lead females with a defined personality, a woman who passionately falls for her man while hopes to realize her dreams, one day. While the woman is portrayed as glam-dolls in the film, a seducing partner or a gossiper, he lets his woman shine from the first sight you see her, just by being herself.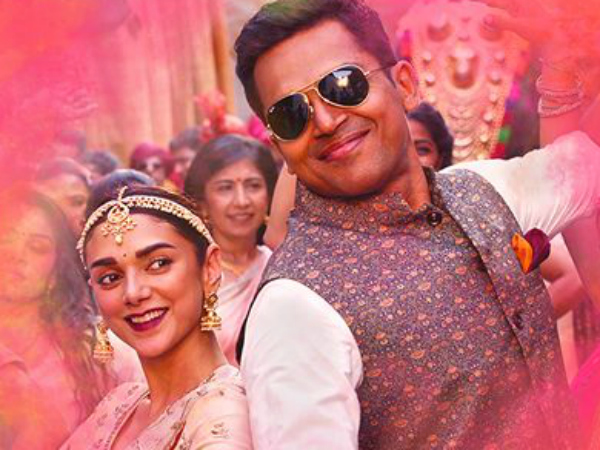 I love woman with a strong personality, who walks with her head straight amidst her male counterparts, who never fears to tell her opinions & suggestions, who gently smiles at the flowers on the roadsides, who silently hums her favorite songs in over-crowded train, who stands up for ethics at her workplace and one who explodes when she is mistreated. Call me as a nitwit. It doesn't matter. I am always attracted towards headstrong powerful huntress than the beautiful hostess. Beauty without mind never attracts me. And I believe every woman possess it but very rare are them.
I recently watched Kaatru Veliyidai and I would say, the movie is undoubtedly a different love story from his past films. I have been hearing mixed reviews about the film, some stating it as disappointment and some praising it. But, in my view, it's an out and out love story and all is fair in love. The success of his films are his characters and we still adore Divya, indie and not to forget the powerful shama. How could I forget the girl, the flavor or her own, exhilarating yet strong Kanmani? Having said that, to me, he scored in the film through Leela. I bet everyone would have seen shades of themselves in soft passionate Leela who falls for her man of toxic masculinity, again and again, in spite of his abuses.
It starts as usual mani sir's love story, bringing two poles together and uniting them in the name of love, like Mounaraagam, Alaipayuthey, Roja, and Iruvar. The male lead Varun aka VC is a squadron leader in the Indian Air Force, a typical upper middle-Class guy and a man of attitude. On the other hand, Leela is a doctor who sings well, wears a sari in Kashmir and one who lives in a moment. The guy meets girl and flirts; the girl falls for him; the guy loves girl; the girl loves the guy; he pleads her; she surprises him with a visit and then one would imagine family denies their love and later, it ends in a happy wedlock. But, that doesn't happen here. Mani sir portrays that the mindsets of people who are in love can be their adversary which makes it hard for them to be in love.
He slowly reveals it through the domineering personality of VC and how Leela helplessly fall in love with him in spite of it. When Varun's brother claims that Leela is one among his love interests and Varun smiles shamelessly, Leela looks at him only for reassurance and is happy that he chose her over other. Some scenes are an epic portrayal of a chauvinistic male, for instance, when Leela supports VC's mother in the hospital and Varun shuts her up. That's it. His attitude to prevail over women is revealed. Slowly, we get to understand this man and he gets to our nerves. During a discussion with his peers, when Leela who is a civilian like him offers suggestions, he insults her and humiliates her saying "Women and men are made differently. A man's natural instinct is to hunt and women are defined only by their looks". When Leela asks him as what is troublesome here, she being a woman or civilian. He twists her hand before his friends and later pleases her only to push her down. The annoying bit is not his arrogance or anger but their origins, stemming from mislaid privileges and his warped masculinity. But, later when he realizes her love is angry, he pleases her by singing for her and utters "I will love you even if you don't love me". When she slaps him in the face with her words, "You treat me either as a queen or a slave; I was never treated equal and I am always beneath you", he couldn't help himself and let his friends know "my girl is angry". And then, he cuddles her and calls her as "My love, my charm, my angry". That's where mani sir makes us wonder, "does he means what he says"? Be it, informing her about the sudden wedding at register office and letting his love to wait for him or walking away when she informs him about her pregnancy. He walks out stating he might turn as an example of a bad father like his dad and he is not ready enough for commitment. The truth is we have such varuns in our life. In fact, most of the men are varuns. They are educated, well served, holds a decent position in society, talks about gender equality and claims themselves to be a gift for their women. They claim to love, respect and understand women. They are polite, charming and sweeps you off with their unconditional love, but then, deep inside, they are helpless scared souls to tolerate a woman with a mind and insecure.
Leela, on the other hand, is independent and no push-over. One cannot leave without appreciating Aditi who portrayed Leela effortlessly and steals the entire show. A woman who loves to live life to the fullest and requires respect more than love from her man. A woman with a tender heart who suffers within herself whenever her man abuses her but then always chose him and gave her unconditional love. One might wonder her as a weak link in this relationship. Never, she breaks down the views of varun when she asks "being a woman or civilian". She is a woman of solid personality but with a caring heart which yearns for a change in his man and awaits for the moment. She expresses herself as being treated a slave only to let his love of life know that she is hurt and expects him to change for good. But then, after every disagreement and insult, she returns to him. Mani sir has explained this tension in a relationship. When everyone expects Leela to walk out after an ugly fight, she sees her reflection in the mirror with Varun on the other end and says "I love you". This frustrates us, but that's where he succeeds. He wants to explain the complexity of relationships, not an ideal love story with pleasing couples.
The movie might not fulfill our hopes and dashes our expectations as we carry these questions in mind.
"Why does Leela returns to varun every time?"
"Why can't she walk out?"
"Why didn't he show Leela and her hardships of being alone once she separates herself from Varun?"
"Why does she reunite as if nothing had happened when varun returns to her?"
"Did Varun realize his mistake? He refers himself as darkness and Leela as light in prison. He then says "What is light without darkness?" This again reveals his dogmatic personality. I would have been very happy and satisfied if he had mentioned "What is darkness without light?
But then what strikes me hard and hit in my face is Leela, her loneliness, her yearning for an equal relationship and her expectations from her man to be empathetic. When she helplessly lose herself in him after a fight and utters "I love you" by looking at herself in the mirror (not him), she scores and portrays a girl of heart with unconditional love. When she expresses as how is she treated and walks out with tears, she clearly conveys a woman's failure in changing his man and being abused by the one who meant the world to her. When she walks out on hearing Varun can't commit, she displays how she is being hurt in the relationship yet she can't get over her true love and brings up the child.
Though there are complex knots in the movie, what leaves an impact in me is we all could connect ourselves to Leela, at any point/instance. The movie is uneven, not an accepted love melodrama but a real truth hidden in the ugly world. It brings out the complexity of relationships but then proves in the end, "All is fair in Love and War"
காதலில் ஏது நல்லை அல்லை; காதலில் ஏதும் நல்லை அல்லை;