Kaddu Palak Roti | Pumpkin Spinach Roti

Kaddu Palak Roti – Flat bread prepared with sweet pumpkin and spinach with spices. Healthy and Yummy Dinner!
Healthy rotis prepared with sweet pumpkin and spinach with spices that you won't get a clue of the addition of pumpkin and its sweetness in the recipe, thus making it apt for adults and kids. Wheat flour is mixed with chopped spinach, grated pumpkin, and spices; then rolled into flat bread. They are nutritious with palak and pumpkin supplying the required calcium content to the body. They are best served with raita or curry of your choice. Prepare this kaddu palak roti and serve it for your dinner/breakfast with raita or curry.
Ingredients:
1 cup Wheat Flour

1 cup Chopped Spinach

1 cup Grated Red Pumpkin

1 teaspoon Chily powder

½ teaspoon Turmeric Powder

½ teaspoon Coriander powder

½ teaspoon Cumin Seeds

¼ teaspoon Salt

½ – 1 cup Water for dough

Oil for Rotis
Method:
Wash spinach leaves in cold water and

chop

them finely.

Remove the skin from kaddu and grate them.

In a large bowl, add flour, pumpkin, spinach, spice

powders

, and salt. Combine them well.

Add water little by little and mix them well to form a dough.

Dust the surface with flour and roll the dough into small lemon-sized balls. Roll them using rolling pin into circular discs.

Heat the

Tawa

in

a medium flame. Season the

tawa

with oil.

Cook the roti on both sides until they are golden on both sides.

Repeat the same for the remaining dough.

Serve it warmly with raita or curry or simple with a bowl of curd.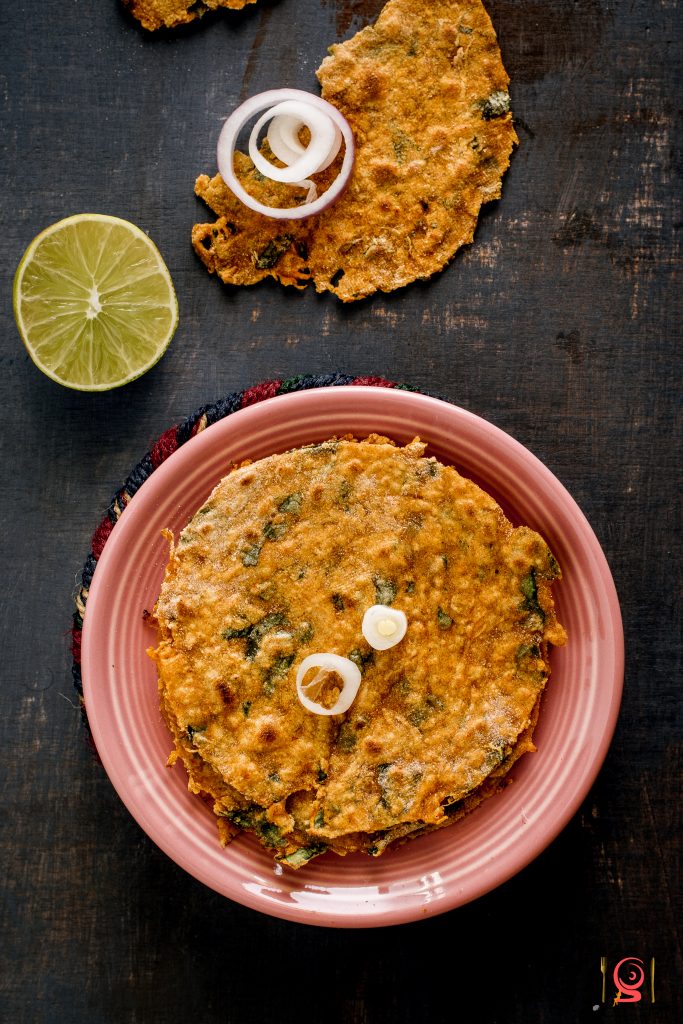 If you would love to know about my mad experiments, do subscribe for my website or connect with Facebook/Instagram.
Thanks,
Karthi