Linzer Cookies – KarthisKitchenStudio Turns 1 !!!

Linzer Cookies – Soft buttery cookie filled with fig jam and dusted with powdered sugar on top!
Start Music! Let the celebration begin! She turned one today!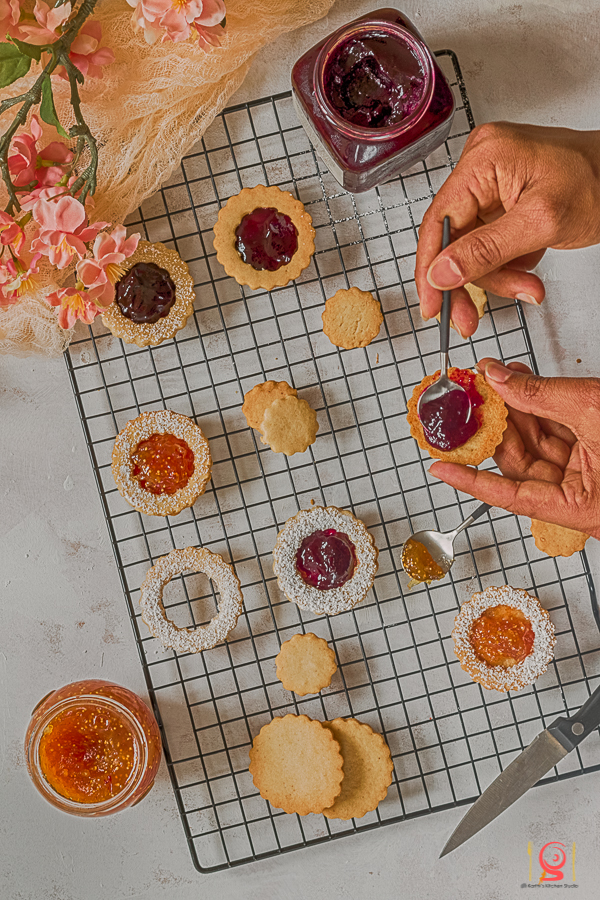 Life is not a fair play. I strongly believe everyone would have felt insecure and devastated by the gravity of hard reality in the life. We would have lost focus and very, very scared of where we would end up. We would have resisted the changes, wished for the favorable outcomes and ended in self-agony, asking why me, why do I suffer always. I can completely relate myself to this state from my experience. Those were gray days when I was angry about my existence and questioned in every possible wicked way about life. My world overflowed with the negative vibrations and detached myself from the world, happily satisfied in resonating my own problems. I should say I found solace in it. There were days where I preferred "Silence" than speaking out. Those periods of silence helped me to understand that life is not a fair play and the more I resist, the more I suffer. The more I embrace the uncertainty of life, realize that pain is inevitable and channelize my negative emotions in a positive way, life unfolds, repairs and reinvents on its own.
When I was questioned about the reason for KarthisKitchenStudio, I echoed within myself this space is an elementary example of "Magic of channelizing emotions positively". This was born out of the times when everything went my way and stonewalled. In such situations, I pushed myself to the corner and was in despair. But then, this time (exactly a year before) I chose to let it go and channelized the negative energy towards my passionate cooking. This space is the child of my desperate period in life and a proof that I declined the invitation to self-agony. It, now, resonates the fact effectively – when you channelize your energy during those hopeless days and focus it positively, life does wonder. Remember, life has higher interests in you than yourself and it takes you to greater heights if we embrace it – accept the pain, live the moment fully and adore it.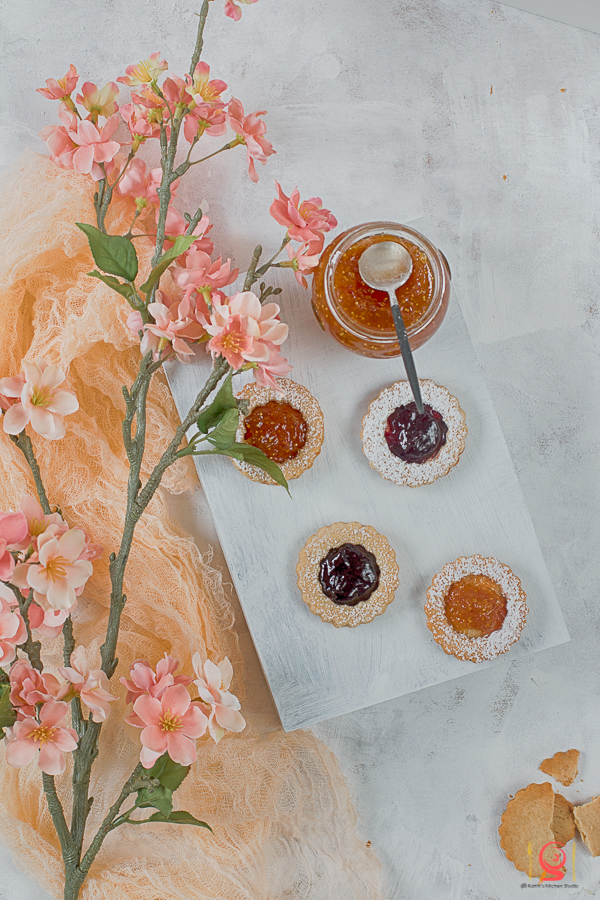 This space now stands as a reflection of my thoughts. It is where I yearn to come every day to unwind myself and rediscover my inner "ME". I was completely blown away by the compassion my readers has shown towards me in the last one year. Thank you all, for adoring my space as much as I do and your endless affection towards it. There have been few friends who regularly followed me and penned down their appreciations/thoughts. Then there are few friends like me, who silently enjoyed my space and left their warmth for me. Each and every one of you has mentored me and supported me during my journey. The word "Thank You" will not be enough to suffice your support to make my world much better. I sincerely pray God for his abundant blessings on you and your family.
When you extend beyond your comfort zone and be compassionate with your fellow people, you will see the beauty in every human and appreciate life. I am so thankful I did that. I have never been an active person in social media and hesitant to interact/share myself with others. When I started looking around the world, it looked more beautiful and offered me a compassionate rich people as friends. I mean my blogger friends and I call compassionate ones as the richest among others. There were times when I lacked the motivation to continue further, lazy enough to take a step forward and clueless days, but then they checked on me regularly, pushed me further and traveled with me, hand in hand. They were there when I bugged them through messages/calls and patiently enlightened me. Thank you much, my dears. I believed that people running in a race aimed at the first position and least worried about the fellow runners until I saw this blogging world, where every strong woman help others and evolve together. Cheers to those lovelies! Let's grow together!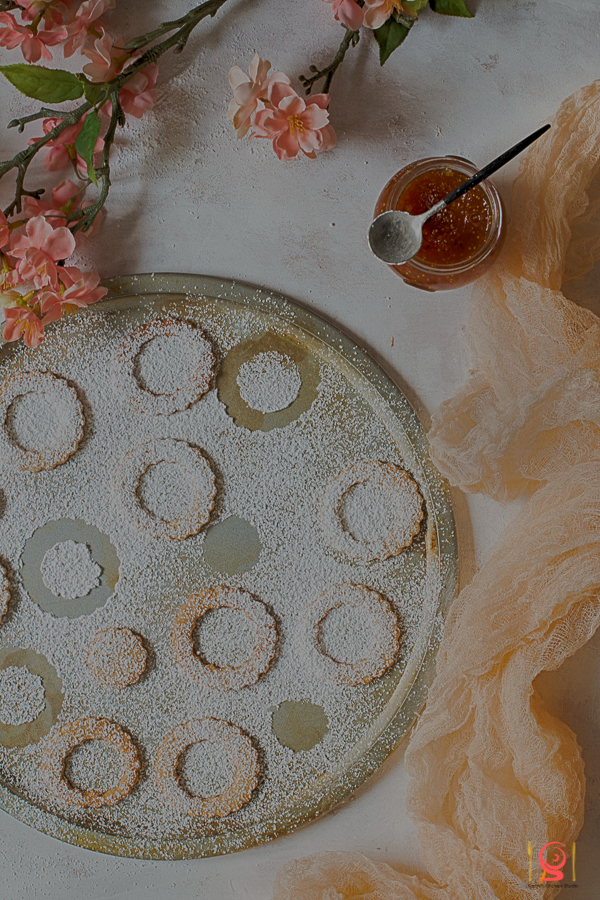 I saved the best for the last, to my family, I can't thank you enough for constantly supporting me in spite of my history of failures. Be it sharing my post, messaging cooking tips, criticizing recipes/photos, instructing me to prepare their favorites, buzzing me often to discuss about the blog, saving magazines with recipes, preparing homemade powders and for putting up with midnight calls to discuss about recipe, my family supported me gracefully, loved me and my space. I sincerely thank every one of you and I assure you that I always make you proud.
I have a very limited circle of friends with whom I interact every day and can't end my day without reciting my stories with them. Thank you dears for letting me know how much I mean to you and I owe my happiness to them. They never failed me. I can't accept myself if I move on without thanking this person – San, who always replied with a broad smile whenever I pestered him to do changes on the website. He mentioned it as his site and quoted that I worked for him as a content developer. That shows his commitment, a sincere wish, and support for his friend. As I say every time, this doesn't end here and I might knock your door at midnight for the sake of alignment in a post. Some are destined to be troublesome friends! Thank you Vini, my brother for the fantastic logo which clearly depicts my space.
And finally, thank you much SJ for letting me do what I want. I have seen husbands who disapprove their wife's idea and mock them down. He quoted every time as "If it makes you happy, then let's do it". Thank you much. I can be little proud as I made yourself proud about me and my space. Cheers, the more is yet to come.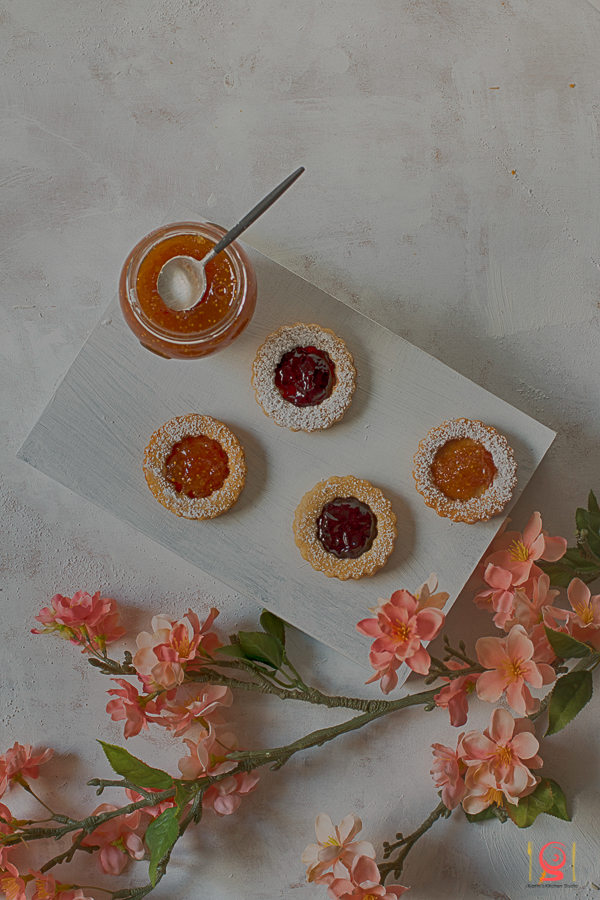 The D-Day calls for a grand celebration and nothing could do justice other than my favorite Linzer Cookies for the party. I loved Jim Jam biscuits as a kid and rushed to open the packet whenever Appa bought them as our evening snack. Remember the milk biscuits with a smiley face on top and filled with cream inside. The jam biscuits with its crunchy texture and bright red-colored jam on top make my eyes roll and bring out the naughty inner kid in me. I pleaded Amma and always had an extra one or two. Twist it and eat it. Twist the biscuits, lick the jam spread in it and finally gobble the biscuits. These Linzer cookies are no different than the jam biscuits sold back home. It's wonderful how simple ingredients bring out an awesome snack and named differently in various regions of the world. That's the beauty of food. These biscuits are buttery in texture, melt in mouth filled with organic fig marmalade from my favorite shop – Oil and vinegar in South Hills Mall, Pittsburgh. Feel free to use your favorite fruit spread, marmalade or jam in the biscuits.
As I munch on these colored beauties, I happily relish my one year journey in blogging and the proud me thank God for bestowing his blessings on me. To the passionate cook and budding photographer in me, "Thank you much, you deserve a pat on the back and every single bite of these cookies. Cheers, the best is yet to come. Happy blogging!"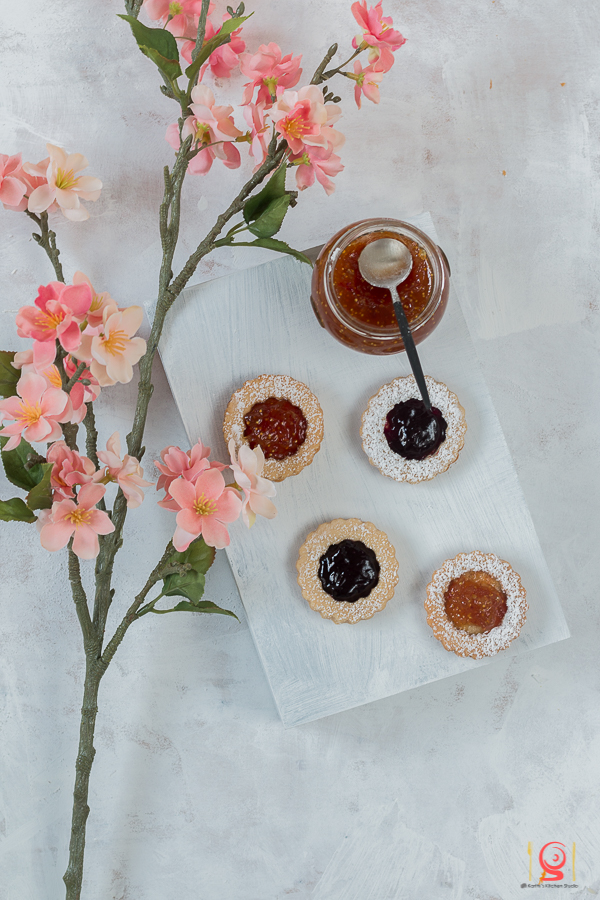 Happy Birthday! She turned one today!
Linzer Cookies
Recipe adapted from CookingClassy
Yields about 24 cookies
Ingredients:
Cookies:
2 ¼ cups All Purpose Flour

¾ cup Almonds or ½ cup Almond Flour

½ cup Cane Sugar, powdered (I made it less sweet as it will be sweetened by Jam but you can increase it if you require sweet)

1 Large Egg

1 cup Unsalted Butter, softened to room temperature

½ teaspoon Cinnamon Powder

½ teaspoon Salt

½ teaspoon Baking Powder

1 teaspoon Vanilla Extract

¼ teaspoon Almond Extract
Filling the Cookies:
Dusting:
Method:
Preheat the oven to

350-degree

temperature.

In a grinder, add almonds and ground them into a

fine

powder. You can substitute with almond flour or almond meal

In a large bowl, combine all-purpose flour, cinnamon powder, baking

powder

, and salt. Mix them well.

In another bowl, add sugar and egg. Whisk them together using a hand mixer or a mixer with paddle attachment. Whisk them on low speed until they are combined and then whip them at high speed until creamy.

Now, add egg, almond

extract

, and vanilla extract. Combine them together.

Slide in the almond mixture and combine them well.

Add the dry ingredients (flour mixture) slowly to the bowl and combine them together until it forms a dough.

Make a ball and flatten the ball using a

rolling

pin. Cover it with a plastic wrap and chill in the

refrigerator

for about 2 hours.

Once chilled, dust the surface with flour; divide the mixture into two equal halves/portions.

Roll each half evenly into a flat disc of 1/8 -1/6 inch thickness.

Cut the rolled disc into your desired shapes using cookie cutters. I used round floral cookie cutter. Cut the disc into rounds and then using a smaller cookie cutter, cut smaller rounds in the center for one-half of the rounds. I used one portion of the dough for whole rounds (Cookies without the hole) and the other portion for the cut ones (Cookies with a center hole).

Line the cookie sheet with parchment paper. Transfer the cut rounds to the sheet carefully. Use a knife to lift them and transfer it to the parchment paper. Arrange them an inch apart from each other.

Bake them for 10 -12 minutes until the edges are crisp and cookies are slightly browned.

Allow the cookie to cool down

on

the sheet for about 30 minutes. Transfer the cookies to the cooling rack and let them cool down completely.

Once cooled, dust the cut rounds (Cookies with a center hole) with powdered sugar and keep aside.

Spread fig jam (your desired jam) on whole cookies evenly.

Assemble the powdered cut cookies (Cookies with a center hole) on top of the whole rounds. Store them in an airtight container.
Tips and Tricks:
Chill the dough before rolling and shaping

Dough that cracks will never result in perfect cookies. Ensure the dough is smooth by covering it with plastic wrap and chilling it for

a couple

of hours before rolling or shaping them out. This will help to hold the shape.

Use sharp knife or spoon to transfer the smaller shapes to the cookie sheet.

Once rolled and cut, chill the dough again before baking to hold the shapes.

Bake them in their own pans

Bake the cookies (with a center hole and whole rounds) separately in two different baking pans as the cookies with center

cut-outs

bake faster than the whole rounds.

Dust the surface generously

Dust the surface and the rolling pin generously to avoid the sticking to the surface.

Let it cool down

Allow the dough to cool down completely before filling them and assembling them.

Spread the filling on flat side

The baked cookies might rise sometimes and will be uneven on the top. Spread the jam on the flatter side of the cookies which is usually the bottom side. The flat surface will hold the spread evenly and is a tighter fit with the second smaller pieces of cookie assembled on top of it

Dust the sugar before assembling

Dust the cut rounds (rounds with the hole) with sugar before assembling. We want the brightly colored jam/spread to shine with the powdered sugar around.

Storage

Store the whole cookies and center cut out ones in an airtight container before dusting, filling and assembling it. This will retain the crispness and freshness in the cookie. You can always fill the cookies whenever you need it and enjoy it immediately.

The filled and assembled cookies will become soft with the filling and lose its crispness as days pass by.

One can spread the cookies with jam and assemble it. The assembled cookies can be stored without dusting. Ensure to separate the cookies with a parchment paper as the jam might freeze well and sticky. Dust the cookies when you are about to serve it.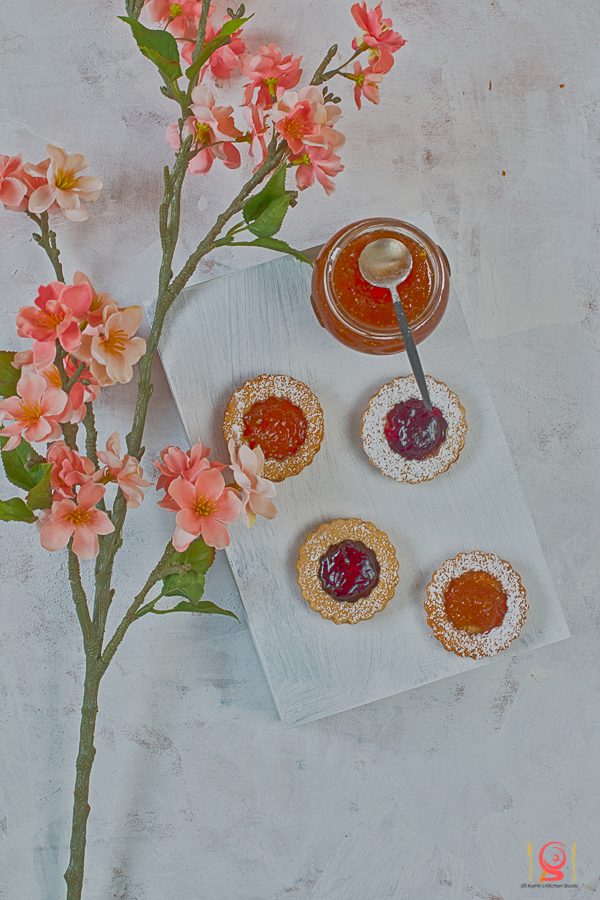 If you try the recipe, do let me know how they tasted in comments. If you like space, do like and follow my profile at here –
Facebook, Google
Yours Truly
Karthi