Silky Tofu Matar | Silky Tofu Peas Gravy

Silky Tofu Matar – Rich, creamy and luscious curry prepared with Tofu, Peas, thick yogurt and Indian spices. Perfect for a weeknight dinner and tastes delicious with hot chapati/roti
Happy New Year 2018! New Year, New Life, New You and New ME! How about your New Resolutions? Have you taken any resolutions? If so, are you following it?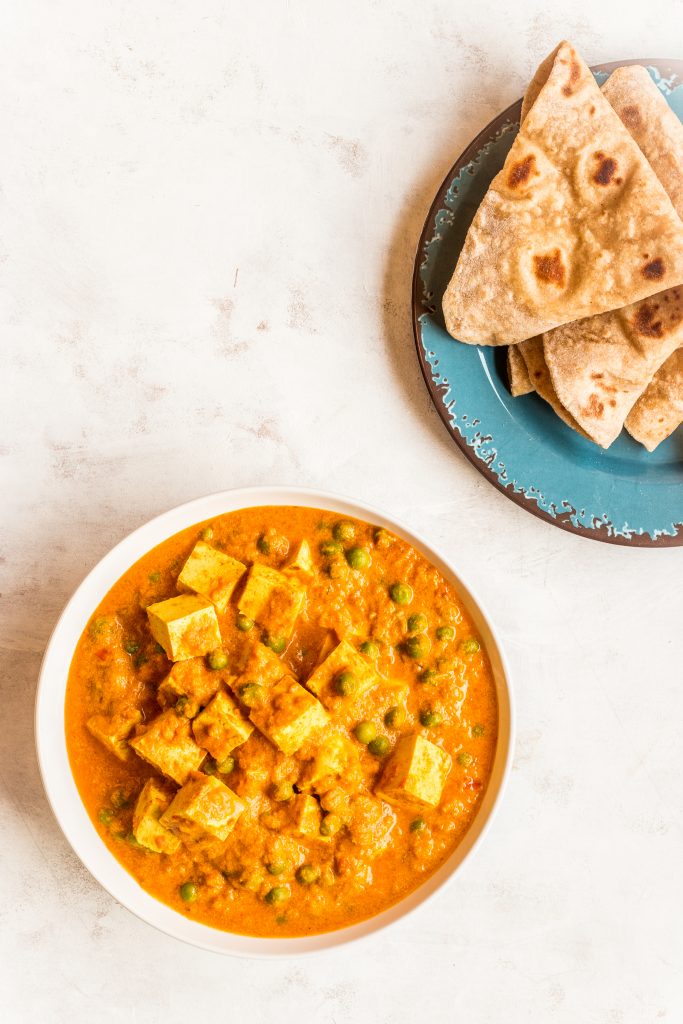 I am not a person who takes oath on New Year eve. I believe every day is a gift given to us and I try to be more compassionate than yesterday. Live life to the fullest as it is very short. But, then this year, I decided to focus on my health and happiness. The first step to a healthy lifestyle started in my kitchen. I love to prepare exotic dishes and indulge in different cuisines every day. I could live on cakes and chocolates. Yet, I decided to prepare simple healthy hearty meals this year and concentrate on the physical and emotional well being.
Hence, I stocked my pantry with every possible vegetable I found in the shop, fruits, and nuts. I have been experimenting simple meals with veggies and my dinner includes roasted/baked vegetables with baked fish/chicken/prawn. I make sure every dinner bowl has the right amount of vegetables and protein-rich foods. I have been preparing Paneer dishes for my vegetarian source of protein. My Primary doctor advised me to opt for Tofu instead of Paneer. The dish which I present here today is my favorite go-to curry – Silky Tofu Matar.
Here I present a simple healthy silky Tofu Matar Masala.
Ingredients:
1 cup Cubed Tofu

½ cup Frozen Green Peas

2 big Onion, finely chopped

3 Tomatoes, finely chopped

½ cup Thick Yogurt

1

teaspoon

Ginger Garlic Paste

1 teaspoon Cumin Seeds

1 ½ teaspoon Red Chili Powder

1 tablespoon Coriander Powder

½ teaspoon Turmeric Powder

¾ teaspoon Garam Masala Powder

1 teaspoon Kasuri Methi

2 tablespoon Oil

Salt, to taste
Method:
Wrap the Tofu with paper towel and press with a firm board to drain the excess water from Tofu

Cube Tofu and set aside

In a pan, heat oil. Once the oil is hot, add cumin seeds. Allow it to splutter

Add onion and saute them until they become translucent

Add ginger garlic paste and saute them until the raw smell goes off

Now, add chopped tomatoes and cook with lid covered until they become mushy

Add the mentioned spices, required amount of salt and cook for about 7-8 minutes until tomatoes are cooked enough and combined evenly with spices

Allow the mixture to cool down completely

Once cooled down, grind them into a smooth paste using a blender

In a bowl, whisk the yogurt and the grounded paste together

Now, add a tablespoon of oil in a pan and heat over medium flame

Add cubed tofu, peas,

and

kasthuri

methi. Saute them for a minute

Now, add the grounded yogurt masala and simmer for about 5 minutes

Ensure to cook over low flame to avoid curdling of the yogurt

Serve silky Tofu Matar with

chapati

/parathas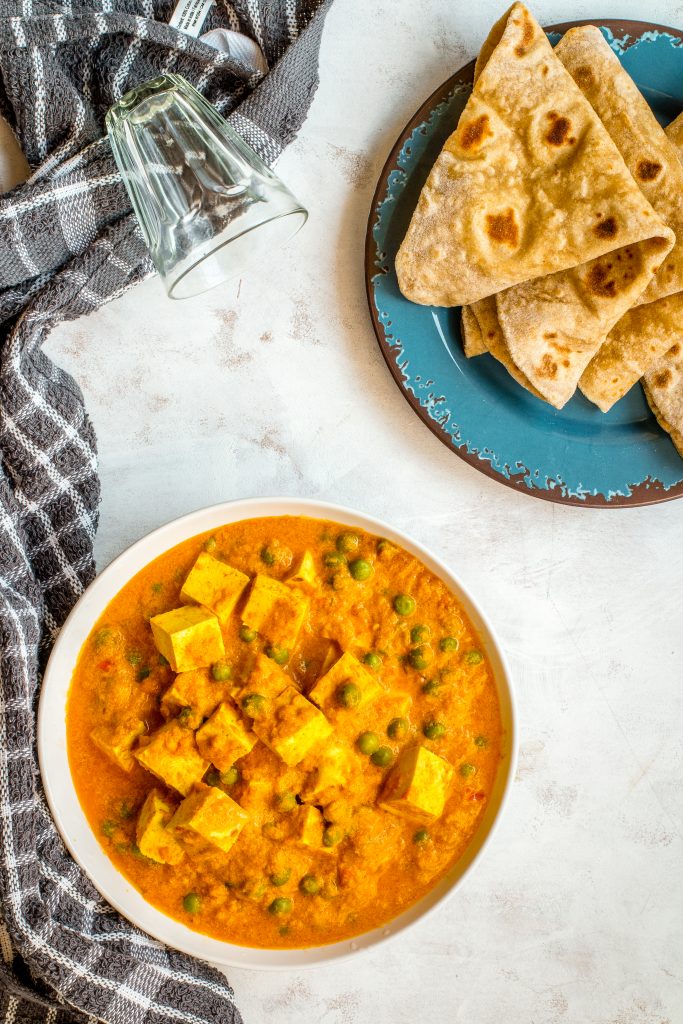 If you would love to know about my mad experiments, do visit my website or connect with Facebook/Instagram.
Thanks,
Karthi