Tofu Peas Biryani

Tofu Peas Biryani – Fine grains of basmati rice cooked with cubed tofu, peas, and spices. A perfect protein rich one-pot meal!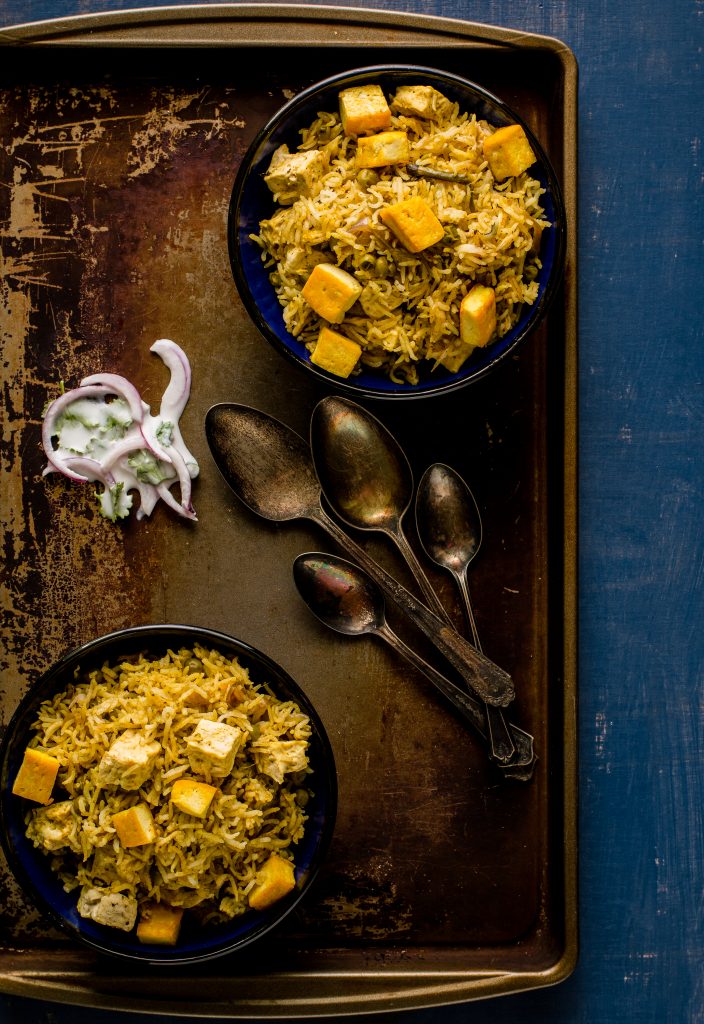 Sometimes all you need to do is to skip your usual routine and do different things to spice up your life. It's even better if stay as such and enjoy the life in its flow. I have always been on the heels – Wake up, Household chores, Work, Cook, Blog and Sleep like a dog. But then, for last one month, I have been sitting idle on my couch, binge on movies, skipped my diet schedule and passing each day aimlessly. Though a part of me couldn't accept it, I felt deep in my heart that I needed a break from everything. Detachment from the racing life and a fresh breath could give a much-required clarity about your life. When you are confused over the uncertainty of life and become indecisive, give yourself a moment. It's okay to be not okay. It's okay if you spent an entire day with a vague mind and pass a day idle. May be, that's what you desperately need to rejuvenate yourself; re-energize yourself. I am slowly getting back to myself after a break. And it's hard to be back on a crazy schedule, which means hitting gym, blogging, back to diet and learning.
As a result, I am finding alternatives for Protein based low carb recipes. Since my doctor suggested to swap Tofu for paneer, I have been experimenting a lot of recipes with Tofu. Today's recipe is one such favorite of mine – Tofu Peas Biryani.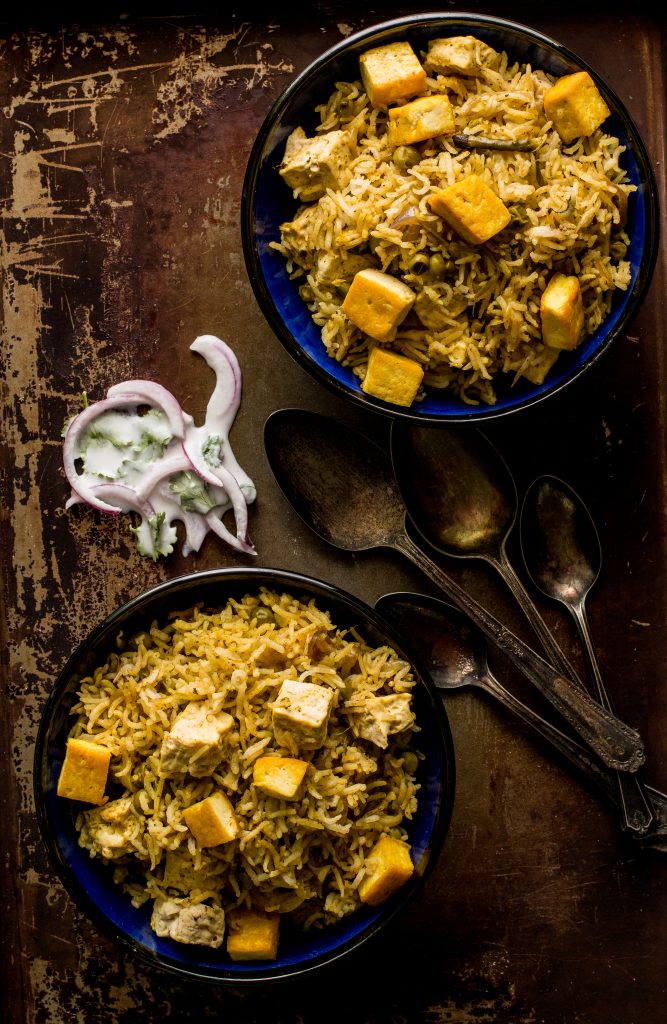 It's a perfect one pot meal and a satisfying lunch/dinner. Who can say No to biryani?
Ingredients:
1 Bay Leaf

1 Cloves

1 Star Anise

1 big Onion, chopped finely

3 + 2 Green Chilies, slit lengthwise

1 tablespoon Ginger Garlic Paste

2 small Tomato, chopped finely

½ teaspoon Turmeric Powder

1 ½ – 2 teaspoon Red Chilly Powder

½ teaspoon Garam Masala Powder

1 cup Coriander Leaves, chopped finely

1 cup Mint Leaves, chopped finely

1 cup Peas

1 packet Tofu, cubed

3 cups

Basmati

Rice

1 tablespoon Ghee

Salt, as required
Method:
Drain the water from Tofu. Drain the excess water from Tofu using a

paper

towel. Cut the Tofu into cubes and set them aside.

Soak rice for about 30 minutes. Wash and drain the excess water from rice. Set it aside.

In a pressure cooker, add ghee and once the ghee is melted, add bay leaf, cloves and star anise.

Add the chopped onions and 2 green chilies; Saute until the onions become translucent.

Add ginger garlic paste and cook until the raw smell goes off.

Meanwhile, grind mint leaves, coriander

leaves

, and green chilies into a smooth paste.

Add the chopped tomatoes and saute until they become mushy.

To the onion tomato mixture, add the spice powders, grounded paste and combine them well.

Add the peas and cubed tofu (add ¾

cup of tofu. Reserve the remaining ¼ cup of tofu to fry and add at the end). Give a stir to combine them together.

Add basmati rice. Sprinkle the required amount of salt.

Cook rice with mentioned amount of water for 3 whistles.

Remove from the flame and allow the pressure to release.

Meanwhile, in a small frying pan, add a teaspoon of ghee. Add the remaining cubes of tofu and fry them until brown. Season the fried cubes with salt and pepper if needed.

Once the pressure is released, add the fried tofu to the rice and give a stir.

Serve tofu biryani with raita of your choice.
If you would love to know about my mad experiments, do subscribe for my website or connect with Facebook/Instagram.
Thanks,
Karthi