Vanjaram Fish Fry | King Fish Tawa Fry

Vanjaram Fish Fry – Pieces of Kingfish marinated with grounded spices and roasted in tawa to perfection!
It's raining from the morning in the burgh. It rains most of the times in burgh; hence it was a usual day for me. My favorite Saturday ritual is to visit Strip District, visit the spice shops, enjoy my morning coffee at my favorite shop Presto George, breakfast ar Delucas, pick my favorite bread at Mancini's, gaze around streets, enjoy street corn, pick my favorite tea flavors, walk, walk and walk around till noon. But then, for the last few weeks, we have been occupied with other work at home and hence couldn't spend Saturday in my desired way. With SJ being here, we decided to wake up early today and show him my favorite shops. We showed him the fish shop, where we buy fish usually; picked up freshly baked Multigrain bread at Manchini's; bought lavender and hibiscus buds from Allegheny County Tea shop. I can't wait to try recipes by infusing lavender and hibiscus. If you do have any with them, do let me know. I would love to hear.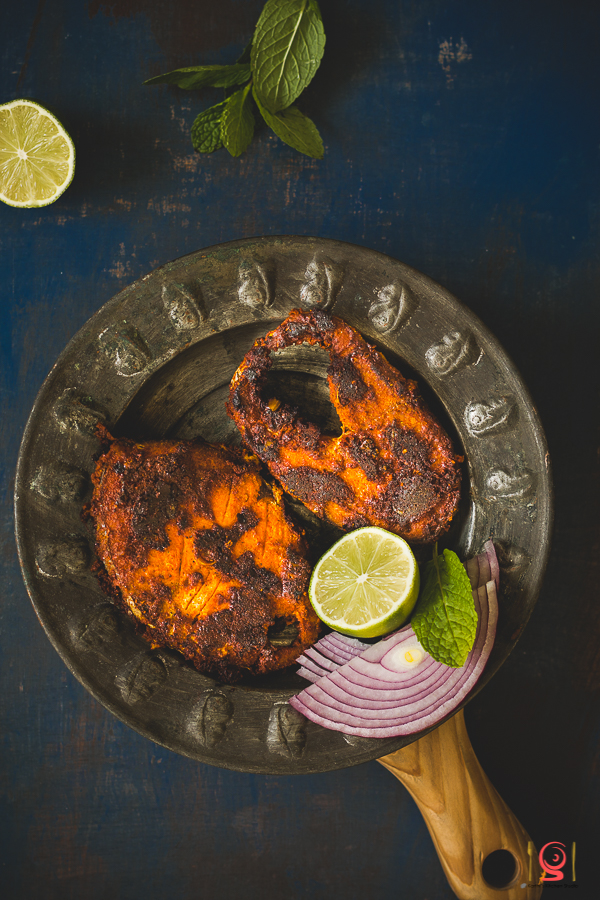 By the way, I found a new shop which sells enamelware. You know what, I bought few plates from them. When we returned back home, it was almost 2 PM. Since we had marinated the fish pieces, SJ fried them. Pressure cooked the rice prepared rasam and the lunch was ready by 2:30 PM. That was a perfect lunch on a rainy day.
Vanjaram Fish fry is the recipe which made me like fish. I should thank SJ for it. Since then, it has become my favorite recipe. Whenever I visit India, my MIL prepares fish thali and fries Kingfish. Though I couldn't get fresh fish here, I occasionally buy frozen King Fish steaks from grocery stores to satisfy my love for it. Since SJ's arrival, we both (myself and SAN) have been requesting him to prepare a variety of non-vegetarian recipes and this is one such.
Now, over to the recipe.
Ingredients:
12 King Fish Steaks

3 Green Chilies, chopped finely

1 ½ tablespoon Ginger Garlic Paste

6 teaspoon Cumin Seeds

10 Dry Red Chili (adjust according to your spice level)

3 tablespoon Coriander Seeds

Handful Curry Leaves, chopped finely

1 big Lemon

1 ½ teaspoon Salt

Water, to prepare marinade

Oil for Frying
Method:
Wash the fish pieces thoroughly with water. Drain the excess water and keep them aside.

Meanwhile, chop green chilies and curry leaves finely.

Dry roast cumin seeds, coriander seeds, ginger garlic paste and red chili until the aroma arises from it.

Allow them to cool down completely and grind them into a fine powder.

In a bowl, add grounded powder, chopped green chilies, curry leaves, juice from one lemon and salt. Add water little by little and mix them to prepare the marinade.

Marinate the fish with the prepared marinade and allow them to dry. Ensure the fish is coated thoroughly with marinade. Let it dry for an hour.

In a non-stick Tawa, add a tablespoon of oil and cook the marinated fish in low flame until it is cooked. Ensure to flip them often and drizzle oil if needed.

Serve Fish fry with lemon wedges!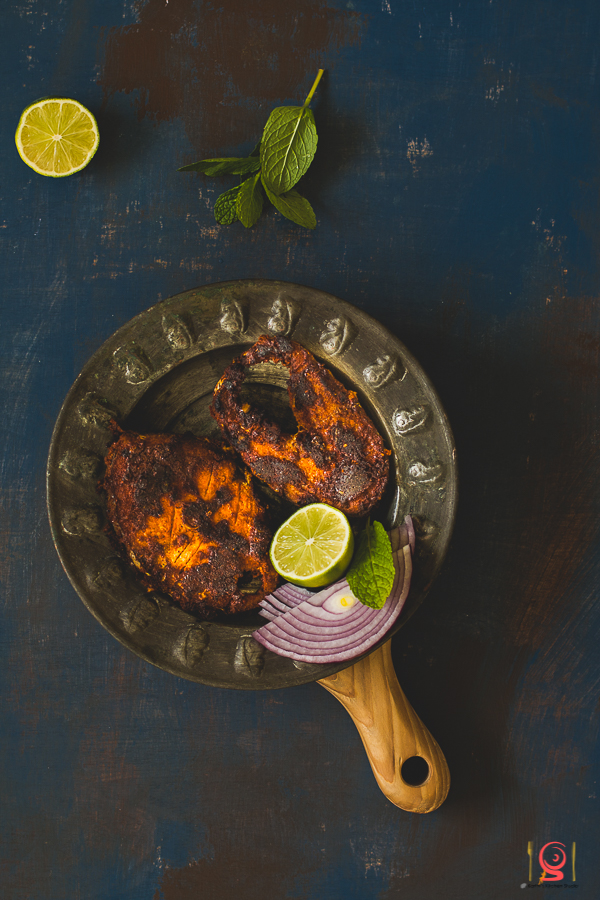 If you are looking for other non-vegetarian recipes, then do check out Spicy Oven Roasted Chicken, Pallipalayam Chicken Fry, Chettinad Chicken Masala, Spicy Pepper Chicken, Hawaiian Chicken Skewers and Paprika Chicken Skewers.
If you try the recipe, do let me know how they tasted in comments. If you like space, do like and follow my profile at here –
Facebook, Google and Instagram
Yours Truly
Karthi